LRVS has become a community of like-minded professionals who can connect, collaborate and add value to each other.
​It is a platform where stakeholders from across various sectors such as Oil & Gas, Petrochemical, Manufacturing, Mining, Energy and so many more can share ideas, chart new ways to revolutionize the sector and stay informed of the current trends. LRVS is a meeting place for major global stakeholders and game changers who are making their impact on the world.
​This year, we will be hosting 3 events in 3 regions on 3x the fun!
​Here's a look at the different regions:
* APAC – 14 June, 2023
* AMER – 20 Sep, 2023
* EMEA – 18 Oct, 2023
LRVS provides valuable, actionable content while identifying future needs of the industrial space. It also provides an avenue to build a community of professionals who are united towards the common goal of increasing reliability through best practices.
Become a Sponsor / Exhibitor
Our LRVS Story
How did LRVS begin?
LRVS (Lubrication Reliability and Virtual Summit) was conceptualized during COVID in 2020 by the team at Fluitec. They recognized the need for people to connect from all parts of the globe to share knowledge and ideas while building a community of professionals within these fields. In 2020, the Fluitec team gathered industry experts from various regions of the globe and arranged a fantastic program which spanned 14 hours across multiple time zones and LRVS made its debut into the world.
In our inaugural LRVS event, we had 41 presentations during that one day! Then, in 2021, the team asked Sanya Mathura to be the co-chair and help with the event. This second event spanned two days, with the first day beginning at 9am Eastern time while the second day began at 9am Central European time. The keynote for our event that year was the phenomenal Ryan Chan, CEO of Upkeep technologies who spoke about "What does the next generation of maintenance look like".
As a special treat, LRVSers partook in a week long pre-conference which saw intimate gatherings of professionals to discuss topics such as Condition Monitoring, Lubrication technologies, IoT & Sensors, Leadership, ESG, Varnish and Certifications. This helped to bring our community even closer although we spanned across 50+ countries.
In 2022, the LRVSers had a special keynote which almost took them out of this world. Dr Juan Flores Preciado, Surface Engineer at SpaceX kicked off the 3 day conference with his talk on "Space and Harsh Environment Lubrication". Attendees were given first-hand knowledge of how lubricants are designed for space and some of the challenges lubrication engineers have to overcome. At the 2022 event, we also had a special track dedicated to ESG (Environment, Social, Governance) with over 15 topics. This was one of the largest conglomerations of speakers as we totalled 85 speakers from various fields.
Over the years, there are a couple of themes which remained consistent. The organizers of this event always ensure that diversity is present in every panel discussion, the selection of speakers and topics. In 2022, there were 20% of female speakers! Another key theme is the value being added to the community. During these events, sponsors and speakers typically provide discounts to products, services and even free courses or book giveaways. There has always been a dedicated charity / support group attached to LRVS. For the past few years, we have partnered with OneTreePlanted to plant one tree for every paid attendee in a region of their choice.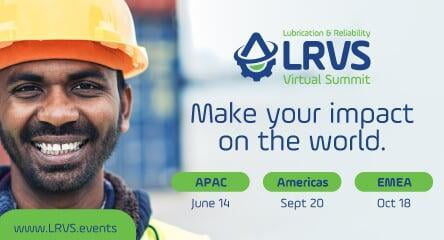 In our fourth year, the structure of LRVS has evolved into three regional events. We're focusing on building our communities in these regions and helping to add value one topic at a time. All of these events will be taking place virtually as it allows our attendees to still join us from across the globe in the comfort of their workspaces / homes. This way, we can continue to add value to all of our LRVSers as we evolve together to build stronger communities within this industry.